Fresh forecasts delivered from our team of meteorologists to your inbox every morning.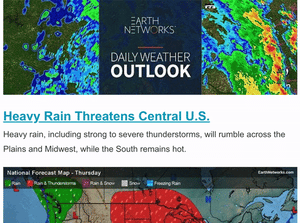 The Daily Weather Outlook from Earth Networks is carefully created and served up to thousands of customers every day.
This email, sent every morning to your inbox, contains the latest weather news and video outlook created and curated by Earth Networks' expert team of meteorologists using data from our network of neighborhood-level weather stations.
There are two primary ways to consume the outlook:
Read it: Regional Weather Forecasts
Our meteorologists are excellent writers. Read through a quick overview of the expected weather in your region for the day. It only takes about 3 minutes!
Here's an example:
Active Weather Spreads East
Spring warmth prevails for the western half of the U.S. as active weather spans almost the entire nation.
The Southeast will once again be at the mercy of strong to severe thunderstorms today. A low pressure system moving through the Tennessee Valley will bring a round of severe thunderstorms from the central Gulf Coast and northern Florida up through the Carolinas. Damaging winds look to be the main threat, but hail and tornadoes are also possible.

On the northern side of this storm system, there will also be rain, but severe thunderstorms are not expected. Rain showers across the Middle Mississippi and Ohio valleys in the morning will make it into the Mid-Atlantic and Northeast by the afternoon. A few scattered snow showers may even be found on the northern fringe of the precipitation, across the Upper Great Lakes and southern New England.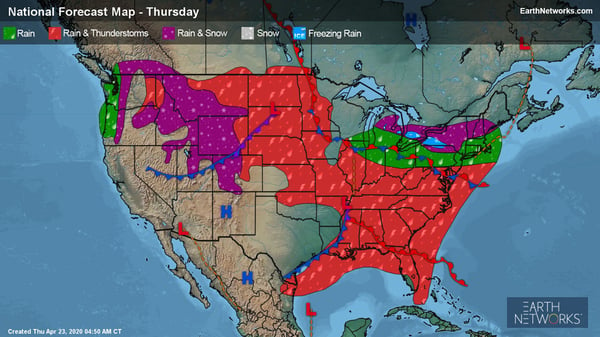 Watch it: Video Forecasts
Each daily weather outlook comes with a link to a video of your regional weather forecast for the day. In 60 seconds or less, you can review the forecasted weather for your region.
Here's an example: