Old Man Winter's Cold Grip Extends Across Eastern U.S.
By Earth Networks Meteorologist, Rebecca Huff
Much of the U.S. will be stuck under Old Man Winter's cold grip to end the extended weekend.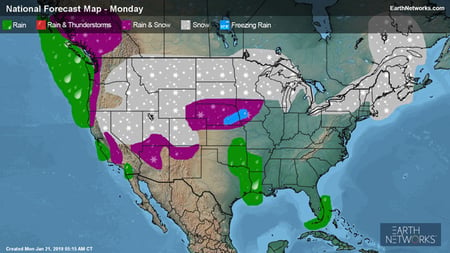 Low pressure hanging out in the northern Rockies will allow for snow to fall from the Sierra Nevada through the Great Basin as well as the northern and central Rockies. In addition, more snow is on the menu for the Dakotas and the upper Mississippi Valley. While more tolerable 20s and 30s spread across the Intermountain West, colder low teens will be found across the northern tier from the Dakotas through northern Wisconsin.
Meanwhile, lake-effect snow that will bring bands of moderate to heavy snow through northeast Ohio into Upstate New York, with a few more inches to add to the current pack. Additional snow showers will pepper interior New England, with another 1 to 3 inches in northern Vermont, New Hampshire and Maine. Cold air diving from the Arctic will only allow mercury levels to reach the single digits with a few "lucky" residents have temperatures reaching just past the 10-degree mark.


The Midwest, Ohio Valley and Mid-Atlantic can expect this cold blast as well to start the week. Be sure to add an extra layer or two before venturing to work to avoid frostbite. Keep the hot cocoa on tap as temperatures only reach the teens and 20s with gusty winds making it feel quite chilly.


If you're looking for mild weather, head to the southern tier. The Southwest through western Texas will see mercury levels in the 60s and 70s with plenty of sunshine today. Further east, the Gulf Coast through Florida will be cool but quiet. Highs here will make it into the jacket-worthy 50s with slightly more tolerable 60s spreading across the Sunshine State.
Frigid, Arctic Blast Expands Further Into Eastern U.S.

UPDATED By Earth Networks Meteorologist, Anthony Sagliani

Brutally cold, Arctic air will require many to bundle up in layers across much of the northern and eastern U.S. for the next few days, while a few more inches of snow will add to impressive totals across northern Maine.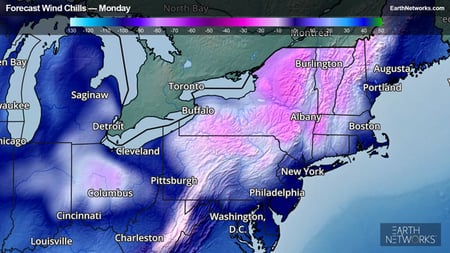 A robust low pressure will accelerate from the Gulf of Maine into Atlantic Canada through the start of the workweek. At the same time, a large, Arctic area of high pressure will pivot from the Great Lakes into the Ohio Valley today, and then across the Eastern Seaboard on Tuesday. This set up will allow frigid, Arctic air to pour deep into the eastern U.S., with sub-freezing temperatures reaching as far south as the Southeast and southern Appalachian Spine.

Temperatures will have little resistance falling below zero as far south as parts of the central Appalachian Spine in Virginia, with many along the Interstate 95 corridor from Washington, D.C., to New York City and Providence, R.I., falling into the single digits to near 10 degrees above zero this morning. Further north, including Boston, Manchester and Concord, N.H., and Caribou, Maine, will fall into the single digits below zero, while snow-packed spots across Upstate New York, northern Vermont and New Hampshire will be in the dangerously cold teens and twenties below zero to start the new workweek.

Add in gusty winds accompanying the frigid air, and wind chill values will fall to dangerously cold levels. The coldest wind chill values will be found across Upstate New York and northern New England, where they will reach 20 to 35 degrees below zero. If outside and not properly protected from the cold, frostbite and hypothermia could develop. Similar wind chill values, perhaps up to 40 degrees below zero in a few spots, will spread across northeastern North Dakota and northern Minnesota as well. Even the typically warmer urban spots like the District of Columbia and Baltimore will see wind chill values range from 5 to 15 degrees below zero this morning.

Widespread Wind Chill Warnings and Wind Chill Advisories are in place from Michigan and much of Indiana to most of the Mid-Atlantic and New England beaches, including Richmond, Va., Washington, D.C., Baltimore, Philadelphia, Boston, Albany and Buffalo, N.Y., and Burlington, Vt. Grand Forks, N.D., to Duluth and International Falls, Minn., are also included.

There won't be much more of a respite from the cold spilling across the northern and eastern U.S. on Tuesday either though it will moderate a bit from the dangerous cold to start the workweek. Instead of lows reaching below zero for many, temperatures will bottom out mostly in the single digits to teens on Tuesday morning except across northern Minnesota and northeastern North Dakota where it will fall to the single digits below zero.