National Weather Outlook For Friday, July 20, 2018
By Earth Networks' Greta Easthom

Today will usher in a slew of storms for the eastern U.S., while others can kick back at the pool to escape the heat and welcome the end of the workweek.
A lingering storm system idling in the upper Great Lakes fires off storms from the upper Mississippi Valley to the Ohio and Tennessee valleys. Instead of a pool, you'll be splashing around in the puddles collecting along the roadways outside, so watch out for any localized flooding. At least an eventual cold front transforms the muggy 80s into the more-manageable 70s.
The Southeast also gets drenched in a soppy mess as southwesterly winds stream tropical moisture into the coasts. Still, a nice tropical breeze will be welcome relief as you break a sweat in the high humidity and upper-80-to-90-degree heat.
After all, the Southern Plains doesn't quite catch the drift and instead swelters under triple-digit temperatures and a mostly clear sky. In fact, everyone from the Mid-Atlantic to the Northeast as well as the central Plains to the Intermountain West will be feeling the late-July upper 80-degree heat as the sun blazes overhead. Mother Nature does— to her credit— play fairly with humidity and only doles out a small amount.
Meanwhile, heat and moisture interplay to produce another monsoonal day for the Southwest. Storms will be likely to pop-up along the central Rockies and other mountainous terrains so pack a rain jacket if you plan to hike. The total rainfall amounts will be light, but flooding is possible over wildfire burn scars. However, a refreshing dousing of rain may be what some residents will crave as heat soars into the upper 90s and past 100 degrees in southeast New Mexico through the interior of California.
Ohio And Tennessee Valleys Face Severe Storm Risk
By Earth Networks Meteorologist, Mark Ellinwood

Scattered severe thunderstorms are likely across the Ohio and Tennessee valleys today as new activity develops this afternoon and evening.

A potent storm system over the Upper Midwest will meander southeastward into the Ohio Valley today, and will team up with moderate to high instability to develop scattered to widespread thunderstorms this afternoon. Large hail and damaging winds will be the main threats from Michigan and Ohio to Mississippi and Alabama, with a handful of tornadoes also possible.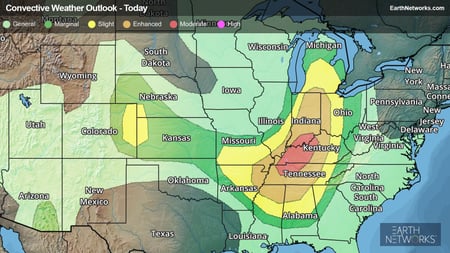 The greatest coverage of severe weather will likely run from Indiana and western Ohio southward into Tennessee, northern Mississippi, and northern Alabama. Indianapolis, Louisville and Bowling Green, Ky., Nashville, Jackson, and Memphis, Tenn., and Huntsville, Ala., are covered within this area.

These storms are forecast to weaken dramatically in the mid-to-late evening hours as they approach the central and southern Appalachians, with very little severe weather activity expected during the overnight hours.

Further west, a weak upper-level disturbance and a nearly stationary boundary across the central Plains could produce isolated severe thunderstorms this afternoon and evening from eastern Colorado into western Nebraska and Kansas. This activity should stay east of Denver, but could affect McCook, Neb. as well as Garden City, Liberal, and Wichita, Kan.

If you're outside for summer activities, it's especially important to remember that lightning is one of Mother Nature's most dangerous killers. If you hear thunder, you are close enough to the storm to be struck by lightning, even if the sun is shining. As soon as you hear thunder, get inside a building or vehicle and avoid open fields, hills, trees, tall objects and water.

Be sure to understand the difference between a weather watch and a weather warning. A watch means that an area is being monitored for dangerous weather and a warning means that dangerous weather is imminent or already occurring. When a warning is issued, there may be too little time to travel to escape the storm. It is best to have a plan of action and relocate to safety when a watch is issued.