National Weather Outlook for Tuesday, November 20, 2018
By Earth Networks Meteorologist, Chad Merrill

A switch-up in the weather pattern will bring both relief and grief to those that have been impacted by the recent deadly California wildfires. Several rounds of heavy rain are expected during this holiday week, which could put a hazardous twist on Thanksgiving travel.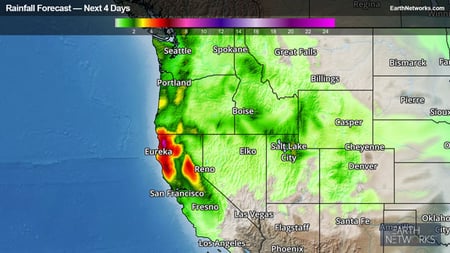 After weeks of bone dry weather, California will finally get a much-needed dose of rain starting today. An approaching cold front will usher heavy rain onto the West Coast on Wednesday, with a second cold front following close behind. The second cold front will be more potent, with more persistent rain and gusty winds expected across northern California and the Pacific Northwest Thursday through Friday.

By the end of the holiday weekend, many spots from the Pacific Northwest and the San Francisco Bay Area to the Sierra Foothills will see anywhere from 2 to 5 inches of rain. This will provide a bit of relief for wildfire fighting efforts and could help improve air quality across the Sacramento Valley and San Francisco Bay Area.

Although this will be welcome rain in terms of drought and fire relief, days of heavy rain could do more bad than good for the Golden State. Heavy rain falling on freshly burned land can produce ash flows and if enough rain falls it could produce debris flows or landslides, especially in locations across northern California that have experienced several wildfires in the last year. This will do little to help rescuers search for victims in the deadly Camp Fire near Paradise, Calif.

Heavy rain will also have a tough time percolating into the parched soil of the West, so general flash flooding is possible. Nearly the entire West is currently experiencing some form of drought or abnormal dryness.

A Flash Flood Watch has already been issued across northern California, including Redding, Paradise and Lakeport, Calif. This includes locations that have been burned by the Mendocino Complex, Carr, Delta Camp and Hirz fires.

As rain falls in the valleys, snow will blanket Sierra Nevada, which will finally add to the snowpack for this season. Four to 8 inches of snow, with local amounts of 12 inches over high peaks, are expected on Wednesday. The second system will deliver a chance for at least another foot of snow to the Sierra and the Cascades and northern Rockies will get at least a foot of snow in the higher passes Thursday into Saturday.

Many residents of the West rely on snowpack for drinking water and snowpack is well below average thus far this season. Lake Tahoe averages 26 inches of liquid precipitation by this time of year and it has only received 9 inches.

Exercise extreme caution when traveling this holiday week. If you encounter a water-covered roadway, be sure to "Turn Around, Don't Drown" because the water could be much deeper than it appears. Pay close attention to any road closures and any instructions given by authorities. Also be sure to pack an emergency kit in your car, including a flashlight, blankets, batteries, bottled water and a snow shovel.