Soggy Storms to Soak Midwest, Ohio Valley
By Earth Networks' Chris Sayles

Tropical showers will deluge the central and eastern U.S., while the majority in the West see sunny skies.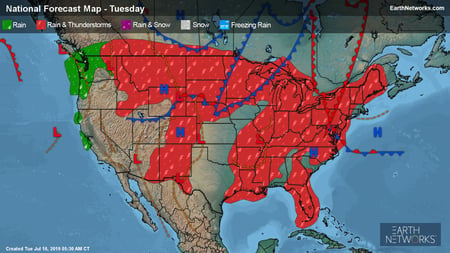 Barry's remnants will still cause issues for the Mississippi Valley, but nature's car wash will spread into the Ohio Valley, Northeast and Mid-Atlantic towards this evening. This weak disturbance will buffet the Mississippi Valley continuously with heavy rain, presenting the threat for flash flooding. It may be a good idea to have a back-up for any outdoor plans.
Further north, a stubborn front will drape the Rockies, northern High Plains into the Upper Midwest, causing showers and storms to barrage the Northern Tier. These storms will be scattered but become more intense east of the Front Range.
High temperatures will fluctuate between the upper 70s to mid-80s from the Pacific Northwest to the Northeast. Some spots across the Mid-Atlantic will see that mercury swell into the humid 90s for highs.
Lastly, a pop-up shower can't be ruled out for the Southeast, but these storms shouldn't jeopardize any planned activities. Furthermore, the southern Plains, Desert Southwest into the West Coast will contend with dry and mainly sunny, summer weather.
Dangerously high temperatures in the upper 90s to triple digits will steam southern California into the southern Plains, while low-to mid-90s bake the Deep South and Southeast.
A stationary front draped across the northern Rockies and northern Plains will ignite more rounds of powerful storms this afternoon into tonight.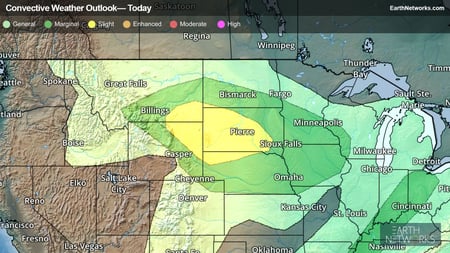 Like a broken record, the strongest storms will again threaten areas from Rapid City, S.D., and Gillette, Wyo., eastward to Valentine, Neb. Isolated stronger storms are even possible for Minneapolis, and Des Moines, Iowa.

Dangerous thunderstorm wind gusts as high as 70 mph and large hail the size of golf balls or even baseballs will be the biggest concerns today, but a tornado or two cannot be ruled out either.

Yesterday, dangerous storms impacted similar areas. Wind gusts as high as 60 mph knocked down trees over northeastern Wyoming, while a line of strong storms blasted through Minneapolis leading to thousands of power outages.

If you'll be out and about this afternoon and evening from southeastern Montana and Wyoming eastward through the Dakotas and into portions of the Upper Midwest, be on the lookout for rapidly changing skies and be sure to monitor local forecasts.

Be sure to understand the difference between a weather watch and a warning. A watch means that an area is being monitored for dangerous weather. A warning means that dangerous weather is imminent.

Keep in mind that lightning is one of Mother Nature's most dangerous killers. If you can hear thunder, you are close enough to the storm to be struck by lightning, even if the sun is shining.

Be aware that strong thunderstorms can produce very heavy rain in a short period of time, resulting in dangerous flash flooding. If you encounter a flooded roadway, remember the saying, "Turn Around, Don't Drown."