Severe Thunderstorms March Into Mid Miss. Valley
By Earth Networks Meteorologist, Brian Dillon

Strong to severe thunderstorms threat continues across the middle Mississippi Valley today. Isolated tornadoes, large hail to the size of half dollars, and deadly flash flooding are expected throughout the day.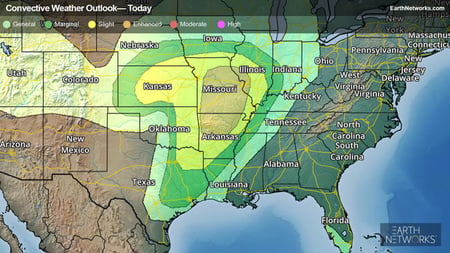 The storm system that brought plenty of severe weather to portions of Oklahoma and Texas on Monday will slowly slide off to the northeast today. Warm, humid air out ahead of the system will allow for thunderstorms to redevelop and bring the threat for severe weather this afternoon and evening across the central Plains into the Middle Mississippi Valley. Further north, colder air from over portions of Colorado, Wyoming, and western South Dakota will bring a spring snowstorm to the region, including Denver and Cheyenne, Wyo.

As winds rapidly turn while gaining altitude, the risk for strong tornadoes and destructive winds are increasing. Abundant moisture in the storms will bring the threat for flash flooding across portions of the plains and Midwest today.

The strongest thunderstorms will be centered across eastern Kansas, Missouri, southwestern Illinois, northern Arkansas, and portions of eastern Oklahoma and Texas. The National Storm Prediction Center has issued an Enhanced Risk across much of Missouri and Arkansas. Destructive wind gusts of 70 to 80 mph are possible, along with hail larger than half dollars, and isolated tornadoes. This includes
St. Louis, Springfield, Mo., Little Rock, Ark., and Quincy, Ill.

A Tornado Watch remains in effect early this morning from eastern Oklahoma and northwestern Arkansas. This includes the cities of McAlester and Tulsa, Okla., and Forth Smith and Fayetteville, Ark.

Further outside the most dangerous region for severe weather today, cities like Wichita, Kan., Shreveport, La., Kansas City, Little Rock, just south of Des Moines, Iowa, and portions of southern Illinois will have to keep an eye to the skies later this afternoon and evening before another round of thunderstorms pushes through with the cold front.

Besides dangerous severe weather, the thunderstorms will unleash torrential downpours, causing potentially deadly flash flooding, especially in areas of poor drainage or where storm debris collects. Flash Flood Emergencies, Warnings and Watches continue to expand from the northern panhandle of Texas, Oklahoma, eastern Kansas, Missouri, and extreme northwest Arkansas. Cities such Pawnee, Bartlesville, Oklahoma City, and Norman, Okla., Wichita and Topeka, Kan., and Springfield and Kansas City, Mo., will experience more flooding through this evening. If you encounter a roadway that is covered by water, make sure to follow a simple saying, "Turn Around, Don't Drown".

On Monday, the High Risk that was issued by the Storm Prediction Center produced storm reports from Texas to Oklahoma to Missouri. Preliminary storm numbers show an unconfirmed 20 tornadoes developed, with 68 reports of large hail. A thunderstorm gust of 94 mph was recorded near Marshall, Okla., as well.

Keep in mind that lightning is one of Mother Nature's most dangerous killers. "When Thunder Roars, Go Indoors" because if you can hear thunder, you are close enough to the storm to be struck by lightning, even if the sun is shining.

The official start of the Atlantic Hurricane season isn't for another ten days, but the tropical Atlantic have different plans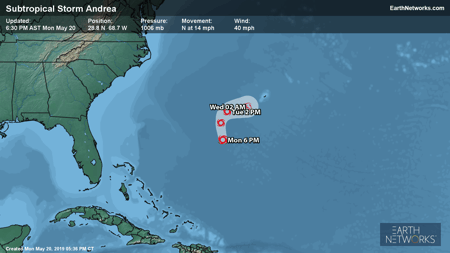 After several days of being watched, a tropical disturbance over the western tropical Atlantic, southwest of Bermuda has gained a central circulation and is now Subtropical Storm Andrea.

As of 5 a.m. EDT, Subtropical Storm Andrea is located at 30.0 N, 69.0 W or 295 miles southwest of Hamilton, Bermuda. This places it 585 miles southeast of Cape Hatteras, N.C. Maximum sustained winds are 40 mph. Its minimum central pressure is 1007 mb or 29.74 inches of mercury and the storm is moving north at 6 mph.

Andrea will be short-lived as it moves northeast into colder waters of central Atlantic and a cold front moving off the East Coast absorbs its remnants on Wednesday.

This is the fifth straight year that a tropical system has formed in May, with the 2016 season seeing a tropical storm form in January. The southwest tropical Atlantic is a common area for tropical system to form in late May and early June as water temperatures from the Gulf Stream are warmer than surrounding areas still chilly from winter.

The official Atlantic Hurricane Season starts on June 1st and forecasts are calling for a near normal season of 10 to 14 named storms to form, four to seven becoming hurricanes and two to three of those becoming major hurricanes.