The Latest & Greatest
View some of our recently recorded webinars, including the latest Sferic Maps Product Overview, and our Seasonal Outlooks led by Senior Meteorologists from our Meteorological Services team.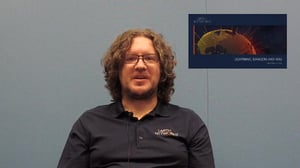 Featuring "Lightning, Dangers & You" and "Ask a Lightning Scientist"
This one-hour presentation focused on lightning safety and alerting was led by Dr. Michael Stock, Chief Lightning Scientist, and Anuj Agrawal, Chief Marketing Officer, for Earth Networks. View now.

Sferic Maps & Historical Data
Get started with Sferic Maps!
See our newest feature in Sferic Maps, the Historical Lightning Archive. Director of Product Management, Jeff Mayerczak reviews the features and options for historical lightning data and we show some useful applications.
Want to learn more about Sferic Maps? Contact us at info@earthnetworks.com.
Heat Stress Management with KSI
Protect student athletes and staff with WBGT.
Heat stress experts from Korey Stringer Institute discuss the latest techniques to prevent and treat exertional heat stress illness (EHI). Earth Networks shows how easy it is to automatically monitor and alert on heat stress parameters like Wet Bulb Globe Temperature (WBGT) and high heat.
Learn more about WBGT. Contact us at info@earthnetworks.com.
Lightning Detection Early Warning for Wildfires
Lightning is the number one cause of dangerous forest fires that can threaten lives and cause damage to utility infrastructure and property.
Join wildfire mitigation specialist Shawn Bethel of our sister company FTS Inc. and lightning scientist Jeff Lapierre and meteorologist Steve Prinzivalli as they discuss lightning detection for forest fire events.